Roger Federer has completed a fantastic winning run in the Miami Open of 2019. After tight match in the second round and a somewhat close match in the third, he virtually cruised through his next opponents including Next Gens stars Medvedev and Shapovolov as well as big servers Anderson and finally John Isner in the championship match.
Federer had also played a very good Indian Wells tournament losing to Dominick Thiem in a close final match. Roger is currently ranked number 4 and leads the way in new ranking points for the calendar year. With the clay season due to start and Federer expected to play in the Madrid Masters 1000 and the French Open he could maintain his ranking without actually needing to win these tournaments, just by being competitive and making it through the early rounds. He has no points to defend on clay and might not feel a great deal of pressure.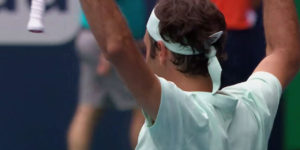 Most important to this fan is that Federer appears to be feeling really good. He gave a typically generous 19 minute interview after the Miami final and din't make a single comment about being tired and ready for a vacation which was said in the previous years even after excellent results.
Speaking of that interview, one question a reporter asked him must have been particularly irritating, even though he responded with humor and pointed out nicely how stupid it was. I don't know who it was that asked this or what organization she represented. 
Reporter: "Hey Roger congratulations, wouldn't this be like a great time, if you were to do it, to say goodbye to the Miami Open after this win?"
Roger (laughing): "And not come back here next year?"
Reporter: "I'm just asking …"
REALLY! You have a chance to ask a question of one of the greatest sportsman of all time and that's what you ask? I felt totally cheated out of hearing a better question in the limited time available. Federer tends to answer decent questions in depth and his knowledge of the sport and so many of the players, past and present, is so much more interesting than these oft repeated (though seldom that foolish) retirement questions. He has answered them quite clearly already and there is absolutely no need to ask more, especially after a significant win that simply proves he is, in no uncertain terms, not ready or being pushed to retirement yet.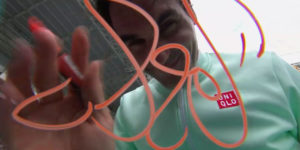 I would have been inclined to ask him about his apparent high state of fitness and agility as compared with 2017 where he also had great results but seemed to be very tired after the Sunshine Double. 
Perhaps he simply celebrated quite a bit after his initial 2017 success and is now refocused on getting back to the best condition possible for his age. The media coverage can be safely ignored for a while longer as Federer shows all signs of still posing a clearly serious threat to everyone on tour, top players in particular.